Building your own DIY air filter fan at home can significantly improve your indoor particulate air quality for a number of reasons. First off, an air filter helps remove harmful particles and allergens from your home, resulting in cleaner air for your respiratory and cardiovascular health. Secondly, air filters can protect you from long-term exposure to indoor particulate air pollution, which can trigger several health symptoms (e.g. asthma and irritation of your eyes, nose, and throat). Lastly, air filters are a great tool to protect your air quality during natural disaster emergencies, wildfires being a common example of indoor particulate air pollution.
Indoor air pollution events can involve gasses (such as ozone) in addition to particulates. To filter such gasses one would need a filter loaded with activated charcoal. But, here our focus is only particulate matter filtering which accounts for the majority of health effects.
Some air filters on the market can be costly, but below we will demonstrate how to build two different types of low-cost and efficient particulate air filters at home.
Simple Box Fan Filter
What is a Box Fan Filter?
A box fan with a MERV 13 (or better) filter attached is one of the simplest DIY air filters that can purify your indoor air. Box fan filters can effectively remove harmful particulate matter and tiny viruses (that may cause COVID-19) from your indoor air.
A Simple Box Fan works by attaching a particulate air (MERV 13 or better) filter to a fan.
Materials Needed:
1
Fan with a flat back and a power source for it
1
Cardboard (used to make a fan cut out)
1
MERV 13 (or better) Filter
1
String, elastic Strap, or tape to attach the filter to the fan
Cost: ~$45
Gather Materials: You'll need a fan, a filter, a string or elastic strap, and a power source.
Prepare your fan: Remove the grating off the back of the fan.
Attach the air filter: Using the string, strap, or tape attach the air filter to the back of your fan. Make sure the fleets (the bends) of the filter are vertical. Horizontal fleets that tend to droop.
Attach a shroud to the front of the fan. This eliminates backdraft through the corners where fan blades are not long enough to cover. You can use the same cardboard the fan was packaged in.
Enjoy your DIY air filter!
Other designs include a wedge and the Corsi-Rosenthal Box.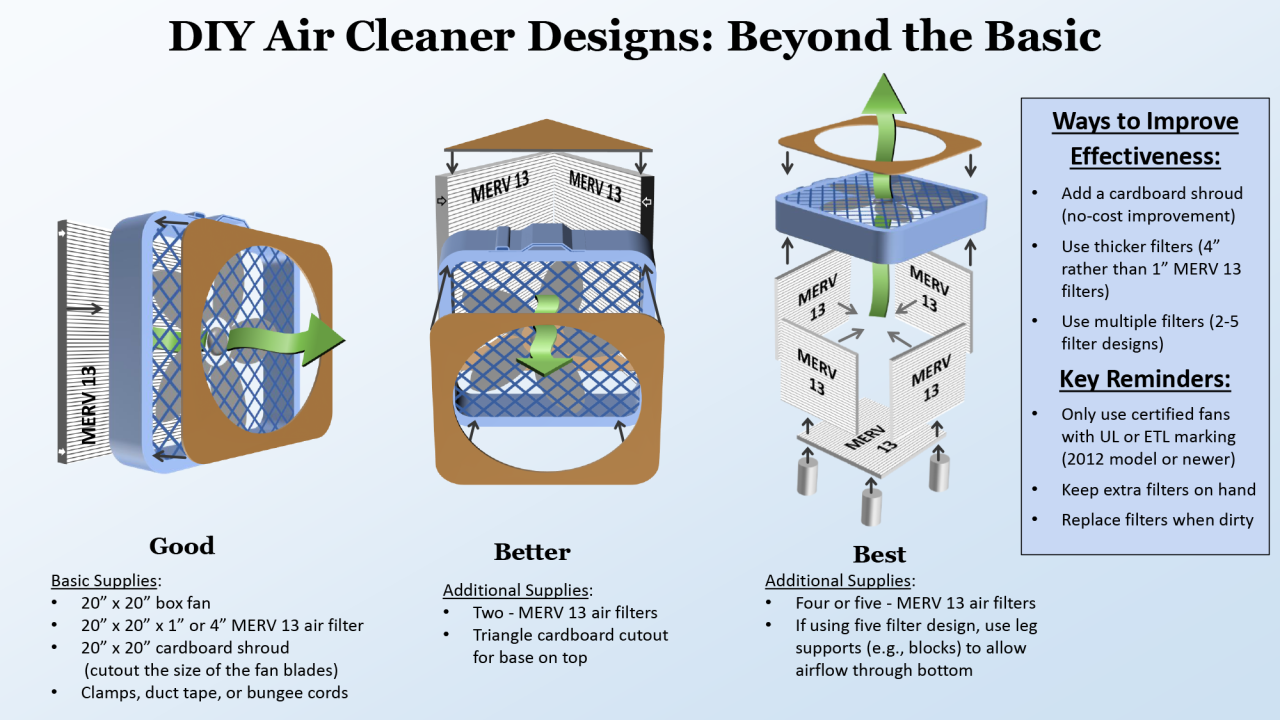 From the Environmental Protection Agency's Research on DIY Air Cleaners to Reduce Wildfire Smoke Indoors
---
Corsi-Rosenthal Box
What is a Corsi-Rosenthal Box?
The Corsi-Rosenthal Box is a homemade air cleaning system that can reduce indoor exposure to airborne particles that contain contaminants, making it a reliable ally in maintaining a cleaner and healthier living environment.
The box functions by using a fan to draw in air and directed through a high-efficiency particulate air (HEPA) filter. The filter captures and traps particles like dust, allergens, and even some harmful contaminants.
With the Corsi-Rosenthal Box, you can improve respiratory health, alleviate allergies, and have a cleaner, more pleasant indoor environment.
Building your own Corsi-Rosenthal Box is easy!
Materials Needed:
1
Box Fan, a power source and a shroud
4
MERV 13 (or better) Filter
1
Roll of duct tape
Cost ~$75
A Corsi-Rosenthal Box leads to cleaner air, and it's affordable and easy to assemble! To learn more about the Corsi-Rosenthal Box and its incredible benefits, visit corsirosenthalfoundation.org .
---
Additional Recommendations
A 20×20″ Lesko fan (built after 2012) from your local hardware store or online is recommended because it is electrically safe to be operated for an extended amount of time unattended.
Not all filters are created equal. Buy at least a MERV 13 (or better) 2″ filter. It doesn't necessarily have to be HEPA since those can be costly. We recommend the brands 3M Filtrete MPR 1900, LENNOX, Nordic Pure, GRAINGER, or Tex-Air (other brands may also work). If you buy at Home Depot go for FPR 10 (the best).
---
Acknowledgements
This page was originally developed by Paloma Ledesma and revised by Ajith Kaduwela who finds communication with Devabhaktuni Srikrishna and Larry Baskett to be very helpful.
---
Resources
Research on DIY Air Cleaners to Reduce Wildfire Smoke Indoors | US EPA
National Collaborating Centre for Environmental Health: DIY air cleaners: Evidence on effectiveness and considerations for safe operation
Indoor Air: Impact of DIY air cleaner design on the reduction of wildfire smoke in a controlled environment
ScienceDirect: Efficacy of DIY air filtration units in reducing exposure to simulated respiratory aerosols
ScienceDirect: Can cheaper particulate air filters and box fans complement HEPA purifiers to help control the COVID-19 pandemic?
California's Department of Public Health: Guidance for Ventilation, Filtration, and Air Quality in Indoor Environments